So for everyone that is curious what it can be like on one of our Night Rides I put a few pics together from this past Thursday night. Turned out to be one of our best rides yet and only by a fluke incident! I pulled up to the Saver's parking lot in Boulder already running late to find my rear brake completely flat, I mean lever all the way to the bar with no chance of even a little friction on the rotor. Since there was snow and ice out, I had to do a quick bleed right there in the dark. Luckily I carry my tools….35 minutes later, we had a rear brake!
David showed up ready to ride…..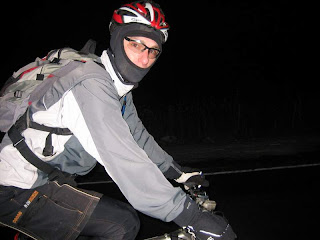 Me happy to have a rear brake again…front brake only in snow/ice = many wrecks and bruised hips!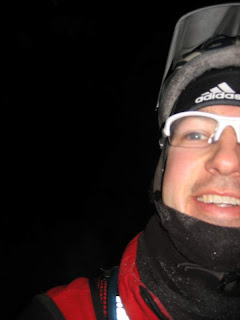 Best thing was we decided to ride over to Marshall Mesa TH since we were almost an hour behind at that point and guess what we found-first tracks on perfect snow and frozen ground! We saw a lot of animal tracks too which always adds to the entertainment of the ride…no big kitty tracks though!

Had to walk the steps….and well, the snow packed up real good in the cleats. We both had to use my flat head screw driver to clean our shoes out!

We call this the "Shifter" gate. One thing that is really interesting on the Marshall trails is that no two gates are alike, so some you can get through without a dismount, others, has to happen.

Here David is heading over to Hwy 93 to check out the Dowdy Draw area-fresh tracks all the way! Kind of amazing for this area so close to Boulder.
The climb up Prarie Vista trail was mixed snow and frozen dirt-you could not even see the tire marks after we rode over it.

We hit up Dowdy Draw and here is a little crude video from my point and shoot.
Here is a shot on Spring Brook Loop-you can see the Hoar Frost on the grasses. Right after this we turned the lights off and rode through the meadow area with just the light from the snow and low cloud ceiling.
Some more on the trees up on the back of the loop-the spikes of frost were almost an inch long.
Here is a map of what we did and an Elevation profile. We ended up riding about 22 miles that night. We added on the Springbrook loop due to my recommendation and then missed the Kitchen at Southern Sun after picking out what we were going to eat on the ride back along Broadway! We enjoyed a stout anyway and then off to IHOP to grab a monster late night breakfast to refuel. Can it get any better? Hope to see more of you come out soon!