About BMA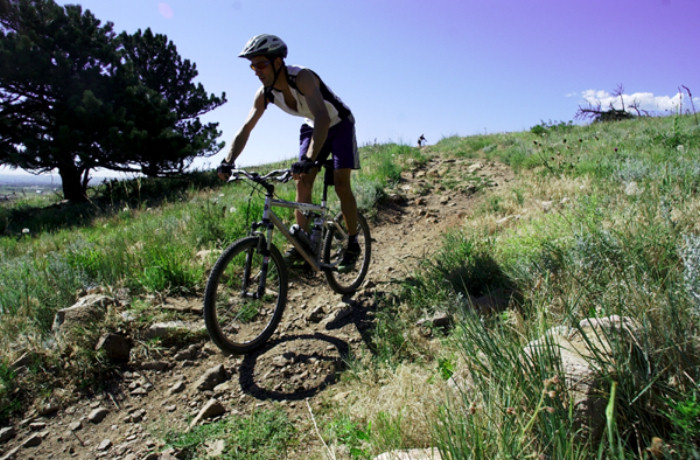 The Boulder Mountainbike Alliance exists to serve as a positive voice for mountain biking by making the trails in Boulder County a better place for all users.
We set these Trail Goals in 2005:
Five new from-town singletracks planned within 2 years
New connector trails slated within 2 years
New designated riding area slated within 5 years
NO trails closed to bikes
Our Trail Accomplishments as of 2009:
Twelve new singletracks opened

Nine from-town: Cowdrey Draw, High Plains, Coal Seam, Marshall Valley, Flatirons Vista Loops (2), Doudy Draw, Springbrook Loops (2)
Heil Valley Ranch: new Wild Turkey and Picture Rock trails
Forest Service Brainard Area: Little Raven trail

Four new connector trails slated within 2 years (Cowdrey to Singletree, Singletree to Coalton, South Saint Vrain wilderness reroute, Betasso/Benjamin new loop and connector)
Four new designated riding areas opened (West Magnolia, Mud Lake, Flatirons Vista, Doudy Draw/Springbrook
NO trails closed to bikes
Our Humble Past
BMA was founded in 1991 as the Boulder Offroad Alliance (BOA). In 2006 the organization's name was changed to the Boulder Mountainbike Alliance to more accurately describe our focus and mission. We exist as a collaborative stewardship organization.
We design, build, and maintain trails for land management agencies in Boulder County. To date, we have completed more than 150 project days which contributed more than 24,000 hours of volunteer time. This is the equivalent of providing the land management agencies of Boulder County with a full time trail worker for more than twelve years.
We operate the BMA Bike Patrol in conjunction with land management agencies to support and educate trail users about appropriate trail use. BMA's Patrol has been in operation since 1996. We patrolled over 1,500 hours and covered almost 8,000 miles of trail in 2009.
Meetings
BMA holds membership meetings and parties March-October at various locations throughout Boulder. See the events page for info on the next meeting and other BMA events. For immediate notices about BMA meetings and events subscribe to the BMA Email Newsletter.
Address
Boulder Mountainbike Alliance
P.O. Box 4954
Boulder, CO 80306-4954
Board of Directors
Mike Barrow
Andria Bilich
Kristen Butcher
Bryan Ganzel
Gary Gomulinski
Kevin Bracy Knight
Jenifer Kwasniewski
Mark McIntyre
Bobby Noyes
Christopher "Botsy" Phillips
Dave Pike
Paul Tagley
Jason Vogel
Eric Vogelsberg
Scott Winget
The Boulder Mountainbike Alliance is a State of Colorado registered 501(c)(4) Non-profit Corporation run by its membership under the direction of the Board of Directors and its subcommittees. All positions are filled by volunteers.